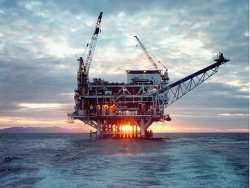 /business/article/38080One January morning in 1969, eight kilometers off the coast of southern California, all hell broke loose.A drilling accident at an offshore oil rig led to the leakage of 11 million liters of oil in the nearby Santa Barbara channel. Thousands of seabirds, fish, and marine mammals were killed.
As clean-up volunteers rushed to the beach, the day's events led to the start of a new environmental movement in the United States. The nation's first Earth Day was launched one year later, and an offshore drilling moratorium was imposed in 1982. Nearly 40 years after the Santa Barbara spill, public opinion has shifted. Drilling technology is less accident-prone, and the United States is desperately searching for domestic oil sources to combat rising energy prices. The U.S. Congress is likely to debate an energy package this month that would lift the offshore drilling ban. It could also offer financial support for renewable energy technologies and policies that reduce fossil fuel consumption.
Politicians in both chambers of Congress who previously opposed offshore drilling are now expressing support for expanded energy policies. Even Santa Barbara County supports offshore drilling. The political showdown has forced environmental groups to decide between staunchly opposing offshore drilling or supporting legislation that furthers their wider goals in addressing the climate crisis. While most environmentalists oppose offshore drilling, some leading environmental groups may ease their opposition in favor of clean energy policies that have so far floundered in Congress. If national organizations support offshore drilling, they risk further divisions with local environmental groups that are based along U.S. coastlines.
"The leaders of local environmental groups are digging in their heels. They only want to talk about offshore drilling," said Eric Smith, a political science professor at the University of California in Santa Barbara. "Meanwhile, lots of environmentalists are saying we ought to talk more broadly and talk about what to do with climate change. We have a fight here. It reflects a fight on coastal zones around the country." In the Senate, bipartisan support is growing for a bill that would allow offshore drilling. Led by a coalition of 16 Senators, the bill would open the Outer Continental Shelf and Arctic National Wildlife Refuge to oil and gas drilling. It would also remove environmental barriers to nuclear power plant construction, support alternative fuel sources, provide consumer tax incentives for fuel-efficient vehicles, and extend renewable energy tax credits.
House of Representatives Speaker Nancy Pelosi, a long-time advocate of the offshore drilling ban, outlined the Democrats' energy plan during a radio address last month. The plan includes a federal renewable energy portfolio standard, a requirement for fossil fuel companies to invest in clean energy technologies, and funding for mass transportation. The proposal would also "consider opening portions of the Outer Continental Shelf for drilling with appropriate safeguards and without taxpayer subsidies for Big Oil," she said.
Soon after the radio address, the Sierra Club and Environment America (formerly U.S. PIRG) both praised Pelosi's plan. But Environment America encouraged its members to oppose the part of the proposal that would potentially open coastal waters to drilling. "We're never going to support offshore drilling," said Ben Schreiber, an Environment America staff attorney. "Our base, our members, definitely continue to oppose offshore drilling. They realize the danger to our coasts, our beaches."
If Congress does not vote on offshore drilling legislation, the Republican leadership has threatened to hold-up funding for the next federal budget - essentially shutting down the government. Given the fact that the moratorium also has to be re-enacted annually through an appropriations bill, the Sierra Club supports Pelosi's strategy despite the group's opposition to offshore drilling. "No matter what, there has to be a vote," said Melinda Pierce, the Sierra Club's senior lobbyist for offshore drilling and Arctic issues. "Seeing what has happened with Congress...we do support Pelosi's strategy to secure a whole bunch of good, clean energy policies."
Several groups are not making public comments on the energy proposals until more details are revealed. But Richard Charter, a government relations consultant with Defenders of Wildlife Action Fund, said opposition to offshore drilling remains a top priority throughout the movement. "There is a broad understanding throughout the national conservation community that there is no reason to trash the coast to get to renewable portfolio standards and more efficient automobiles," he said.
In light of the upcoming elections, Congress may not find the time to vote on the drilling legislation before its session concludes later this fall. In that case, a solution would depend on the next Congress and whoever moves into the White House next year.