The story so far:
Reporter Max Wahlter has been visiting the sustainable city of Porena to bring back insights into how to live comfortably in harmony with the environment (see earlier adventures). Last week he looked into how the education system worked. "If you have a functioning sustainable society," he says, "THAT acts as the education system."
Today was scheduled to reveal how one town went into an energy descent process. However, Max has got a job. As a special bonus to PlanetThoughts readers only, he will publish the results of his assignment. A Swedish-based company has asked him to Imagestream a place that focuses on keeping people well, instead of waiting till they get sick and then curing them.
---
Preamble
My use of the methods continues to develop. I am now taking on assignments. I received an assignment to describe what a 'Well-being Location' would look like. The area offers a wide range of activities inviting and enticing well-being in terms of food, exercise, recreation, relaxation, cultural interest etc so that visitors come away refreshed, having improved physical and mental condition with knowledge & stimulus to continue.
---
Tapescript
The lift has a bamboo trellis with leaves growing on it. Over the top a sign says 'well-being'. I go up to the green lift doors and push the button on the left saying 'go there'. It looks more like a walkway, a long corridor on some kind of moving flat walkway. I get on it and travel along it. It looks like an airport with different exits along each side. I want the last exit, I know.
The walkway ends with an escalator going down into an indoor courtyard with a fountain in the centre. I look up at the glass roof, and see the courtyard is circular, with balconies extending around the second floor. I see a machine with 'I speak your weight' on it I get the impression I am in a station of some kind (remember the 'I speak your weight' from Porena?).
On my left I see an indoor market. They are selling healthy food, regional products. The people serving are wearing folk-dress, and offering free tasting of regional food products. Seen that. On the right of this is an office that looks like a ticket office – no, it is a Bank – the health Bank! I take a queue number.
'How can I help you?' the clerk asks as my turn comes up.
'I'm trying to find out about this area, how it promotes well-being.'
To my left I see brochure racks with all kinds of offerings.
'It depends what you want to do,' he replies.
'I want to do? Well I want to lose weight.' He points me to the lose weight section. The section offers masses of different ways to lose weight at different centres; at health farms, gyms or in other ways. The telephone numbers are in the brochures so I can ring and book a time.
That's simple. 'What about improve my general physique?'
'There is a section for that too!' So I ask the guy on the desk:
'I suppose I need a personal trainer?'
'Yes Sir, personal trainers and advisers are available,' he replies.
'Can you get me one?' He phones and a personal trainer walks in!
'Could you advise me in the best way to er…. actually I need someone to guide me through how all this works.'
'What do you want to know?' my personal trainer-appearing-from-nowhere replies.
'I want to know what it looks like and how it works.'
'The centre here houses a regional products indoor market, we have this office which we call the bank (as in information bank).'
(I invest my time and energy in this bank I guess?)
'In the centre all originates from the fountain.' ('Symbolic' I mutter).
'How about for people who need spoon-feeding.' I ask...not meaning myself of course.
He takes me to the gym. He straps an electronic device on my wrist and I get on a treadmill. I start walking. He turns up the pace until I walk at a speed where I am nearly out of breath. I keep going. Then I sit down. All the time the trainer works with the computer. A print-out arrives for us to go through together. He explains the print-out shows my basic status compared to average, high, and low. It has measured pulse, cardio-vascular capability etc.
I do another exercise where I have to hold myself up on my elbows to check stability. Next a device scans me to check muscle status and tone. A nurse comes up and pricks my finger for a blood analysis. There are all kinds of tests people can do on you, like measure stress levels. It is all based on what you want to do. You can't just go in here it seems. You must want to do something.
I ask to be shown around the rest of it, but the trainer gives me a pager to page him when I need him, otherwise he tells me to walk around on my own. I put my print-out profile in my rucksack. On my left is a corridor of culture. There are exhibits and advertising for aquariums and other places of interest. Further down there is a hire care office as well.OK. I think I get the idea.
On to the next section. Back at the fountain I am pleased to see there are still areas left to explore. I go up the stairs to the second floor. These are temporary office spaces you can rent if you want to be here and get away but still be able to work. Back on the ground floor I muse over not seeing anything that has surprised me. I always take it as a warning sign that the exercise is not giving enough insights. Everything starting from a building is a bit surprising, architecturally. Now if I want to walk, to ramble…?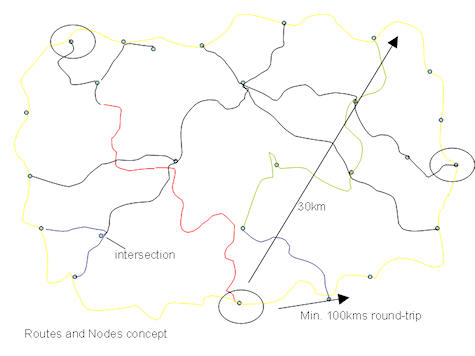 I see a TOTAL WALKING MAP In front of me! It looks like a road map, but shows paths. They are differently colour-coded. The red one is the hardest and wildest, requiring overnight camping. The blue one is like ….. … easy mountain biking. The orange one I am not sure. The yellow one is like a Sunday afternoon stroll. At intersections are places to stay rather like inns, with numbers to phone to book or you just turn up. The map in front of me is an incredible network of paths. I see you can buy the map … it has everything on it. It has about distances, and fat–burning. The burn fat map…. I said that, it is not written anywhere.
Next to the map is a sports shop. You can buy walking boots, the boots are colour coded related to the colour of the trail. A very clever retail concept!!!!
I was wondering if there was anything about interests. I think somehow you can connect this to your interests but how does that work? There are different events at each intersection of the paths. Each intersection houses different events. Some are free some are not. Buy the tickets or not ... just turn up. And off you go. So you can walk between events or walk to enjoy the countryside.
The events are repeated so instead of the event going to the people, the people go to the event like a theatre or cinema, it has a regular program. This area has a cinema in the woods – a cool idea. The activities are linked to the walking paths, which are linked to 'nodes' which I presume are villages or hotels or similar.
The whole thing reminds me of a map of a ski-resort. What is good about it is you just need the map to be able to get the most out of the region!
The car-hire people will rent you a car. I ask the member of staff how this car rental office is special as it is in the 'well-being region': 'We do nothing special here we do not do in other places, sir.' You can use the car to get around if you like. There are car parks at each node so you can take the car to a canoe centre etc.
But what about interests? Suppose I want to do say learn more about making music on my computer. They do have summer courses. These are concentrated in different parts of the area depending on subject. Each course is only available in one place. They usually take the summer – closing the schools and renting classrooms as needed. Every school is open during the summer with courses for tourists and others. It is all done on a one-day at a time rolling scheme timetable. Say a course is three days. You can stay and do the three days in a row, or do day one and return later for day two and later still for day three.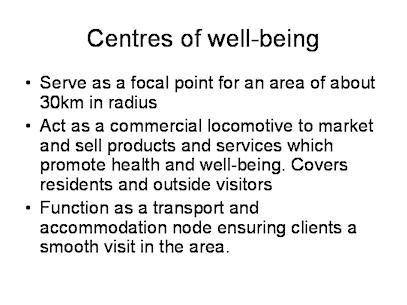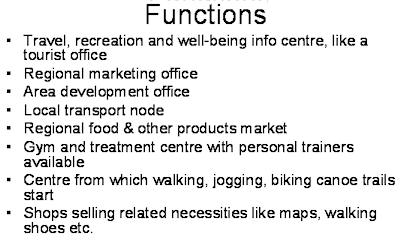 ---
Next week Max continues to offer the bonus on well-being. Be here next week! To order the entire book in paperback or as a downloaded pdf, go to http://stephenhinton.avbp.net.