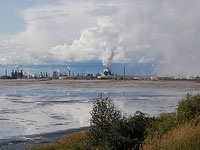 The relentless search for oil has led explorers to the boreal forest of northeastern Alberta, among the jack pines and black spruce trees an hour's drive from the boom town of Fort McMurray. Kelly Hansen, operations manager at ConocoPhillips's $1 billion Surmont oil-sands plant, holds up the prize: a beaker of sticky black "synbit," a 50-50 blend of bitumen (a viscous, tarlike petroleum) and synthetic oil.
"The Athabasca oil sands contain the equivalent of 1.7 trillion barrels of oil," Mr. Hansen says. "About 20 percent of that total can be produced, using current technology" — namely, surface mining and steam extraction underground. Surmont, a facility of gleaming silver-colored steam generators, process pipes, and holding tanks, is jointly owned with French oil company Total. Its initial pilot phase has ended, and the company estimates it will produce 2.5 billion barrels of oil at Surmont.
Thanks largely to the prodigious Athabasca oil sands, Canada ranks second only to Saudi Arabia in terms of total oil reserves. At a time of roller-coaster crude prices and concerns over the security of energy supplies, these oil-sand deposits have attracted more than $100 billion of investment from just about every major oil company in the world.
According to Matt Fox, vice president of oil sands at ConocoPhillips, "Canada represented 20 percent last year of US oil imports. By 2020, it could easily represent 40 percent."