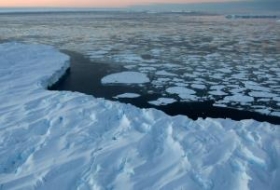 /ecosystems/article/38393
WASHINGTON - The global economic crisis has thrown a political chill over one of the main initiatives under consideration in the United States to combat global warming: the so-called cap-and-trade plan.
Democratic leaders in the House and the Senate, and both presidential candidates, continue to rank tackling global warming as a chief goal next year.
But the focus on stabilizing the economy probably will make it more difficult to pass a law to reduce carbon dioxide and other greenhouse gases. At the very least, it will push back when the reductions would have to start.
As one Republican senator put it, the green bubble has burst.
"Clearly it is somewhere down the totem pole given the economic realities we are facing," said Tom Williams, a spokesman for Duke Energy Corp., an electricity producer that has supported federal mandates on greenhouse gases.
Duke is a member of the U.S. Climate Action Partnership, an association of businesses and non-profit groups that has lobbied Congress to act.
Just months ago, chances for legislation passing in the next Congress and becoming law looked promising. The presidential candidates support mandatory cuts and a Democratic majority is ready to act on the problem after years of the Bush administration resistance.
But the most popular remedy for slowing global warming, a mechanism know as cap-and-trade, could put further stress on a teetering economy.
Under such a system, the government would establish a market for carbon dioxide by giving or selling credits to companies with operations that emit greenhouse gases. The companies can then choose whether to invest in technologies to reduce emissions to meet targets or instead buy credits from other companies who have already met them.
In an interview with The Associated Press, Representative Rick Boucher (D-Va.), said that in light of the economic downturn, a bill that would give polluters permits free of charge would be preferable.
"The first way we can control program costs is by not charging industrial emitters," said Boucher, who released a first draft of a bill this past week with the chairman of the House energy and commerce committee, Representative John Dingell ( D-Mich.). Giving away right-to-pollute permits was one of the options.
Other Democrats, however, see a cap-and-trade bill - and the government revenues it would generate from selling permits - as an engine for economic growth. Democratic presidential nominee Barack Obama supports auctioning off all permits, using the money to help fund alternative energy.