By Stefan Lucian (Bucharest, Romania)
Living in these days can mean a lot more than just having a shelter, food and clothing. People have evolved a lot in the last 50 years and the trend is of an exponential growth. The differences between generations will be more significant than there are now. As a proof that people have already started to change their minds and philosophy are the random bursts of nonconformism, meaning that some people no longer feel represented by the masses, and their image can't be associated with an institution of a large group of people.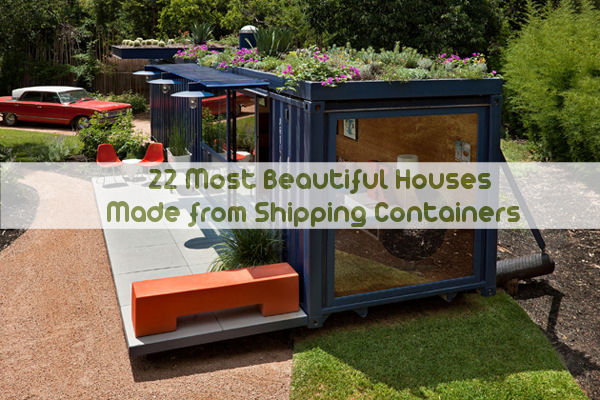 Part of the nonconformism I was talking about is the residential component. People live in more and more diverse houses that suit best their needs. Some people buy large houses with concrete structures or steel and glass to reinforce their social position and other people choose something different but always a place that suits their needs. A crazy idea is to live in a container. Yes, you've heard me, those cargo containers represent now for some people a part of their home, or even the entire household. Don't rush into conclusions yet, let's take a look at some wonderful structures and then let's draw a conclusion together.
Shipping Container Guest House.
One of the most interesting projects I've seen so far is this wonderful guest house made out from a recycled shipping container. Because of the container's nature not a wide range of possibilities is available to decorate it, but people take this always as a challenge and in this case it turned out great actually. The container was painted blue and two sections were cut and windows and big sliding doors were mounted.
There is a small patio in front and above it a bit of a roof so the rain doesn't smash directly into the door. The interior feature wood panels on walls for the sensation of warmth and comfort.
Bold combinations of colors and materials make from this structure a fine place to hang out looking permanently to the surrounding landscape. This unique residence idea and design belongs to Poteet Architects and you should know that this is not their only project involving shipping containers.
Kalkin's Shipping Container Homes.
This creation over here defies the anything you knew before in matter of houses. This beauty over here is made out of containers. New Jersey architect Adam Kalkin designed and built his own house from recycled shipping containers. Among many reasons to do that there is price (a used one costs under $1000) and durability.
This house is huge and structure on different levels. You could say that this is a "house in house", because inside the massive building there are smaller individual components that look like a traditional house. As a matter of fact the indoors is combined with the outdoors through massive sliding glass doors and also by the house-like structures built inside.
To read the whole story and see the other incredible houses, click here.